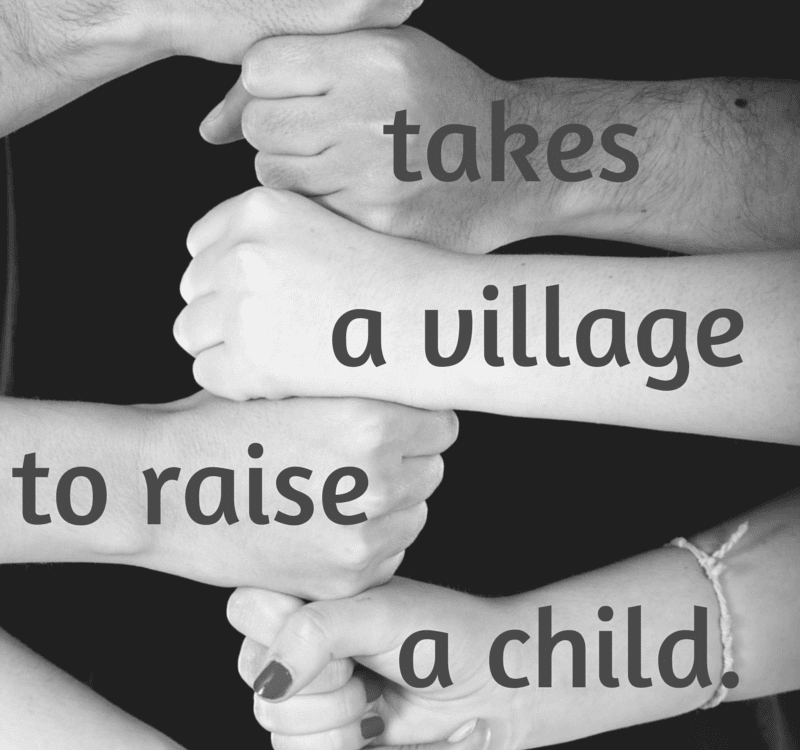 It Takes a Village
Our children are unique, have various talents and and abilities, and struggle with a variety of challenges. We parents do our best to help our children shine, grow, and develop strategies to succeed. We do not have to do this alone. I once asked a pediatrician friend who has three children, "Which is harder, your job or raising your kids?" Without a pause, she answered, Raising my kids."
As parents, we want to help our kids succeed without being domineering. We want to teach them strategies to be independent and advocate for themselves. We want to help them face and overcome their struggles. We do not want to nag them or yell at them (though we find ourselves doing so in frustration). We can't understand their lack of motivation, their reluctance to seek help, why they don't do things the way we would do them.
Historically, people have lived in extended families rather than nuclear families. There were aunts, uncles, and grandparents who lived nearby and could step in to help, offer a different perspective, or give parents a break. In the Washington DC metro area, many of these relatives live out of state or just aren't available to help. Not too long ago, it was common for mothers to stay home and make child-care their full responsibility. Now, most mothers and fathers are struggling to fit jobs, child care, homework management, extra-curricular activities, and more into every day.
This doesn't mean we need to do it all. We live in a community, and we have many resources available. To help our kids, we have teachers, counselors, therapists, tutors, academic coaches, and more. These people love to work with children and want to help yours. Here are some ways to use your community to help you out:
Stay in touch with teachers
Teachers want their students to succeed, and most welcome parents' emails about any issue their children are struggling with. Most will be happy to schedule a phone call or meeting if requested.
Have a team meeting to discuss your child's challenges
Meeting with all of the students' teachers, counselor, and administrator can help set up common goals and strategies. An annual meeting, especially in the Fall, is especially important for students who have a 504 plan or IEP.
Take advantage of free resources at school
Many teachers stay after school to work with children. Students can make appointments with counselors, and parents can contact them about social issues. If you think your child needs to be evaluated for ADHD or a learning disability, they are entitled to a free evaluation. (Private evaluations may be quicker and more objective, and many insurance plans cover part of the cost.) With a diagnosis, your child may be eligible for accommodations or school-based special education services like small reading groups, speech therapy, or occupational therapy.
Hire professionals
An after-school tutor, academic coach, therapist, ADHD coach, social group, or behavioral coach can do wonders to help your child be successful. Also, many children work better with outside people than their own parents. Then parents can put more of their efforts into building positive relationships with their children, playing games, and having fun.  Tutoring For Success offers in-person and online tutoring and academic coaching.  Learn more.
Incorporate Extra-Curricular Activities
It is so important for children to cultivate their interests and talents through extra-curricular activities – sports, music, drama, art, etc. This will help them build their social skills and confidence and find areas in which they excel.
Attend the CHADD sponsored free resource fair on Oct. 7th.
The upcoming resource fair (info below) is sponsored by CHADD of Northern Virginia (Children and Adults with ADHD). However, the professionals who will attend this event are available to help all families, with or without special needs. This free resource fair is wonderful opportunity to connect with professionals face-to-face. Register!
By Cheryl Gedzelman, President, Tutoring For Success, Inc.