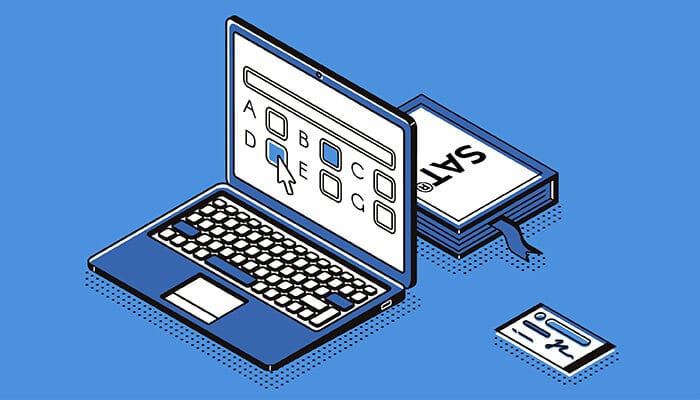 The New Digital SAT is coming Soon!
As many of you know, the SAT will go from paper to digital beginning in 2024, and the PSAT will go digital in October of 2023. For current high school juniors, there will be a split – paper through December, digital beginning in January. Here are some key changes for the new digital version.
Length will be Shorter
The current SAT is 3 hours and 20 minutes with 154 questions. The digital SAT will be 2 hours and 14 minutes with 98 questions. There will also be more time to complete each question.
Test is Adaptive
The digital SAT will have 2 modules for reading/writing and 2 modules for math. Students can move around within each module. There will be 2 versions of the 2nd module, one easy/medium and the other medium/difficult. The student's results on the first module will determine which 2nd module they will take. Also, questions will be assigned different weights depending on difficulty.
Timer is Included
Student can turn off timer if desired.
Taking Notes
Students can highlight sections and strike out wrong answers.
Reading Section Changes
The reading section will go from 750-word essays to fewer than 100-word essays. There will be fewer historically important documents and more poetry. There will be more reasoning.
Vocabulary Changes
There will be sentence completion questions.
Math Changes
The questions will be less wordy. There will be a built-in online calculator called Desmos. (Students can become familiar with this free online calculator right now.) Formulas will be available.
Preparing for the Digital SAT
Every student will need to download the College Board Bluebook App, which will include test previews and full practice tests. Private tutors and classes can provide extra assistance to develop test taking strategies and remediate weak academic areas.
College Board SAT Exam Schedule
Paper
Oct. 7 – Register Sept. 7
Nov. 4 – Register Oct. 5
Dec. 2 – Register Nov. 2
Digital
March 9 – Register Feb. 23
May 4 – Register April 19
June 1 – Register May 16
We recommend that juniors take 2 paper versions of the SAT before trying the digital version. You only need to submit the scores you like. The ACT will continue to be on paper for the foreseeable future.
Tutoring For Success provides SAT and ACT prep. GET STARTED.